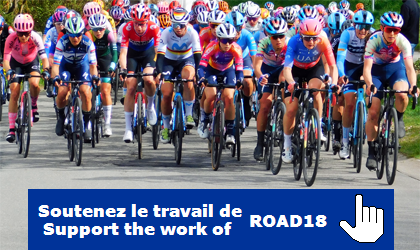 Appel aux dons / Call for donations

ROAD18 AS. édite le média www.road18.net.
Nous lançons un Appel aux dons afin de soutenir le travail de ROAD18.
Média International du Cyclisme Féminin en ligne depuis 2018 : "Toutes les courses, partout".
Des compte-rendus, des informations de qualité, reconnus et repris.
Tout ceci a un coût. Pour que ROAD18.NET demeure gratuit.
Le cyclisme féminin, un sport en plein essor. Un pas vers la parité.
En vous remerciant.
Nota (fiscalité France) : vous pouvez bénéficier d'une réduction d'impôt de 66 % sur vos dons !
Exemple : pour un don de 200 €, l'Etat vous accordera une réduction d'impôt de 132 €.

www.road18.net is edited by ROAD18 AS.
We launch a Call for donations to support the work of ROAD18.
International Media Women's Cycling on line since 2018 : "All the races everywhere".
Reports and quality information, recognized and relayed.
All this has a cost. For ROAD18.NET remains free.
The women's cycling, a sport in a rapidly expanding field. A step towards parity.
In thanking you.